Keep Watch with Me: The Seven Last Words of Jesus
By Sr. Inviolata Mukhaabi, OSB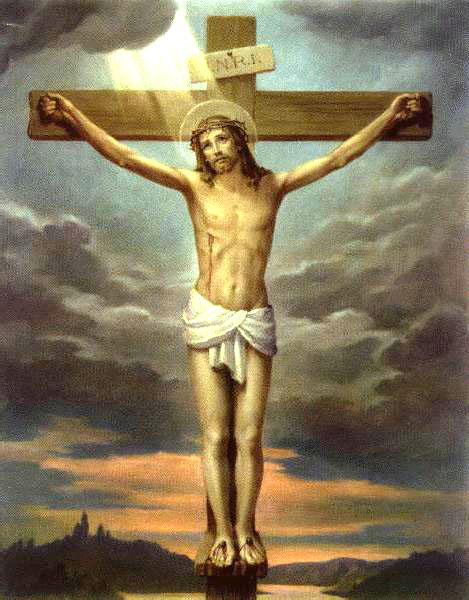 Father, Forgive Them, for They Know Not What They Do (Luke 23:34)
Who are "THEM"? I look at Jesus hanging on the cross, at the point of death, and saying "Father, Forgive THEM" and I wonder who he is actually referring to. Those soldiers crucifying him? Sure. The crowds standing by jeering? Indeed. The disciples who ran away and left him alone? Of course! Does that include Peter, who denied him three times? You bet. What about Judas the traitor? Was he forgiven in that single prayer? YES, Jesus forgave Judas. But in some way we were all represented in those categories of people who played a part in putting Jesus on the cross... He forgave us too. Let us not give up as Judas did. Jesus pays our debts on the cross, and forgives all our sins, deliberate or otherwise. Let us give Him a chance to touch and forgive us.
"Never despair of God's
mercy." (
Rule of Benedict 4:74)
Amen I Say to You, This Day You Will Be With Me in Paradise (Luke 23:43)
The Kingdom of God belongs to rich and poor alike, the aristocrats and the commoners alike, the saints and sinners alike. No one is excluded from the Kingdom of God; that is ,
NO ONE who dares to ask to be remembered by Jesus.
All the Thief dared to ask was a memory of him; he received something much better: the assurance of Paradise. When we look at Jesus Crucified, let us see what the Thief saw: Lord and King. Even Crucified, God is not powerless; in fact His power to save is greater when he hangs suspended between heaven and earth. Don't lose hope, regardless of what you have done or been accused of doing, Paradise is opened by the Crucified Lord.
Just ask.
Woman, Behold Your Son; Son, Behold Your Mother (John 19:26)
"I will not leave you orphans," Jesus said to His disciples. Hanging on the Cross, he keeps that promise. He gives them over to the care of His Blessed Mother. Knowing they will need her strength and faith to deal with his death and the days ahead, Jesus gives His Mother to the disciples. Like the disciples, we need the strength and the faith of the Blessed Virgin Mary in order to understand Jesus, follow Him, and still believe in Him, especially when faced with the spectacle of the Cross. Let us then, turn to Mary our Mother and ask her to pray for us; let us ask her to walk with us; let us ask her to help us see and love Jesus as she does.
My God, My God, Why Have You Forsaken Me? (Matthew 27:46)
Have you ever felt alone and forsaken, and just at the moment when you would really have used company and support? Well, the Lord, hanging on the cross apparently felt that way. However, He also felt a sense of Hope and trust. When you read Psalm 22, which begins with those words' "My God, my God, why have you forsaken me?" you realize that it was both a plea for help and an expression of confidence and hope. When we feel abandoned and alone, let us remember that we have a Savior who knows what that feels like; let us then go to him in our loneliness and ask him to keep us company in our hour of need.
I thirst (John 19:28)
I agree with all those who see in this plea of Jesus a spiritual longing. However, I also agree with those who basically see it as it was: an expression of a physical need of a crucified Man. In those words of Jesus we hear the need of those who lack bare necessities of life like water and food; we hear the longing of those who are helpless and are hoping that someone(you or me) will hearken to their aid. Of course we hear the spiritual longing in the Crucified Savior as he longs to share in our life. He is thirsting for your life and mine, hoping that we can offer him a drink from our life to quench his spiritual thirst. Will we heed the Lord's need? What will we offer Him? Cheap wine? Vinegar? Or a heart contrite and humbled.
It Is Finished (John 19:30)
In these three words is a sense of fulfillment and accomplishment. Jesus has done all he came to do. In the Garden, he prayed to be spared, but the Father's will was that he should drink the cup of suffering. Hanging on the cross, at the point of death, the Obedient Son has carried out His Father's will, and all that remains is to trust that the Father knows what comes next. In these three words we can find our own sense of finality. When we have done all we could do, we can be like Jesus and trust that God has the plan and the map, and He knows the next step.
Father, Into Your Hands I Commend My Spirit (Luke 23:46)
The entire life of Jesus, from incarnation to the death on the cross has been one act of surrender. "My food is to do the will of My Father," "The Son of Man did not come to be served, but to serve and to give His life as a ransom for many," "Let it be as you will it," are all examples of Jesus' selfless life, a total giving of self to carry out the mission of redemption. With his final breath, all he has left is to surrender the breath of life - his spirit - into the hands of His Father. May this be our inspiration and our source of strength as we seek to give of ourselves to God's mission.